We offer a variety of pole dance classes to students of all fitness and skill levels! If you are trying pole dancing for the first time, please sign up for our Introduction to Pole Class!
** Tips for new students with 2 week trial pass
Your first class must be an Intro to Pole class, after your first class, you can attend any level 1 pole and aerial classes, Intro to pole classes, and all level classes including pole flow, flexibility, pole conditioning, and pole choreography.
Our pole fitness level descriptions are listed below: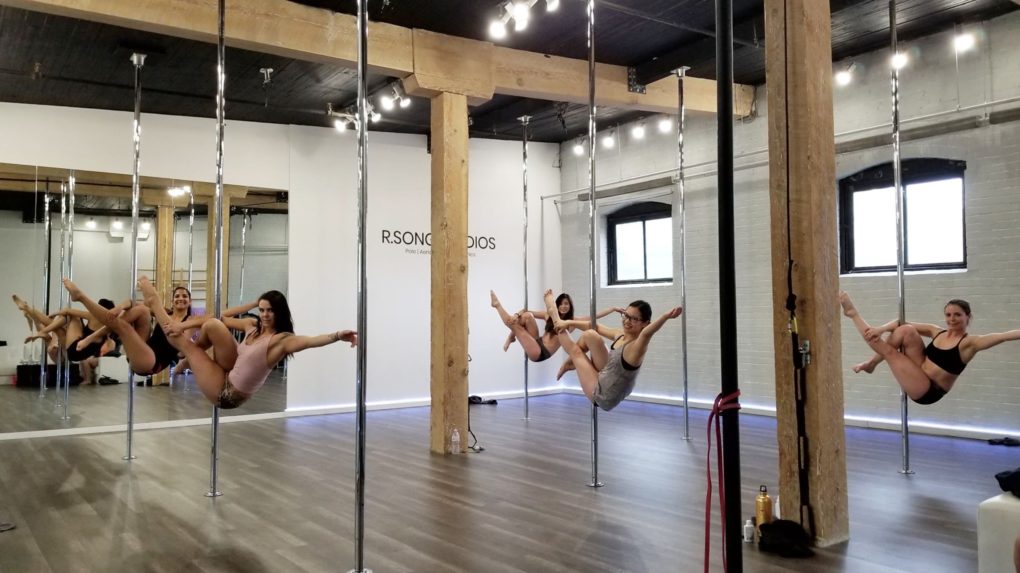 Intro to Pole
If you have never taken a pole dance class, we recommend starting here. In this class, you will be introduced to basic pole dance techniques and strength training exercises. From walking around the pole to simple spins and floor work. Please wear shorts, or pants that roll up so that the back of your knees can be exposed
Beginner Plus (Level 2)
Once you are familiar with all techniques taught in Level 1. You are ready for BEGINNER+ Pole classes which focuses on strength training and conditioning for inversion moves.  Learn more advanced spins, climbs and combos on both Static and Spin pole!
Intermediate Pole (Level 3)
This is the classes where you start to go upside down. You will be learning basic inversion and more advanced climbs, spins, and floorwork.
Advanced (Level 4)
For students who feel comfortable with inversions, leg hangs and spin pole, we will be raising the bar with more advanced inversions and holds. Learn how to put these moves into beautiful combos!
Professional (Level 5)
This is our most advanced level and students tend to have multiple years of pole experience. L5 students will focus on lines, dynamic tricks and combination creations.
Exotic Pole Level 1
Combining sexy choreography in heels, this class is for beginner and intermediate level students and will help you learn body and leg waves, thread-throughs and floor twists.
Heels and Knee pads are strongly encouraged. Pre-requisite for this class is INTRO TO POLE.
Exotic Pole Level 2
This class incorporates a mixtures of Russian Exotic and Classic Exotic styles. Students will learn a new dance choreography every class which includes inversion tricks and advanced flips.
Heels and Knee pads required. Pre-Requisite for this class is Level 3 Pole.
Contemporary Pole Choreography
Shifting the emphasis from codified tricks to creativity, this class explores movement aesthetic, musicality, flow, and dance technique. Learn a choreographed sequence with the pole including options for beginner to intermediate skill levels. Some movements may require shorts, but bring some cozy pants for floor work as well.
Flexibility and Conditioning
Suitable for all levels, this class will help you improve your active and passive flexibility. Focusing on back, shoulder and leg stretches, our flexibility and conditioning class will help you work towards splits, relieve stress and tension, and increase your overall mobility.